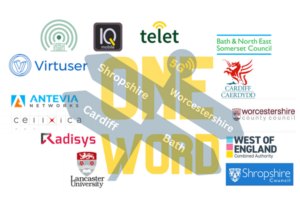 "ONE WORD – boosting mobile connectivity in our heritage hot-spots"
Telet, Radisys, Antevia, cellXica, Virtuser and IQ Mobile celebrate an innovative £14m project to boost mobile connectivity in four tourism hot-spots in the "ONE WORD" project.
The ONE WORD project brings together six disruptive technology companies with five local authorities, a community organisation, and the University of Lancaster and to improve high quality mobile coverage in the West of England.
The project is managed by Telet, experts in small mobile networks and rural deployments.
Telet has brought together the West of England Combined Authority, Bath & North East Somerset Council, Shropshire Council, Worcestershire County Council, and Cardiff Council to work in partnership. The project partners recognise the importance of good mobile connectivity in high demand density areas, and the positive impact that digital connectivity has on local economies.
The project will be both a technology demonstrator and will provide an exceptionally high quality of 5G mobile coverage for the City of Bath, around Cardiff's Principality Stadium, Shrewsbury's centre and Quarry Park as well as pop-up events in rural Worcestershire.
The £14m project has £9.8m of funding from the Department for Science, Innovation and Technology (DSIT) as part of the DSIT initiative: Open Networks Ecosystem (ONE), which is looking to build low-cost, flexible alternatives to the infrastructure offerings form the major equipment vendors. Project partners will provide an additional £4.2m of funding.
The project will tackle the issues of installing high-capacity mobile infrastructure in both rural locations and busy pedestrian areas, in a way that is visually sympathetic to Areas of Outstanding Natural Beauty and historic urban centres. Using innovative technology from British suppliers, the Radio Access Network (RAN) will be built to allow the equipment to be seamlessly integrated into the streetscape.
Network components will consist of newly developed 5G Small Cell Radio Units from UK manufacturers Antevia and cellXica, integrated to work with "Open RAN" software from Radisys, which will enable improved, multi-operator 5G coverage.
Working in parallel, systems integrator Virtuser will lead a workstream focusing on electro/mechanical design aimed at reducing size, weight, power consumption and visual impact of mobile deployments.
Minister for Data and Digital Infrastructure Sir John Whittingdale said:
"Whether you're in a busy city centre or a rural village, a fast and reliable mobile connection is vital to staying in touch, accessing services and doing business.
"In order to secure that, we need to embrace a diverse and secure range of technology that will underpin the network.
"The projects we're backing today with £88 million in Government research and development investment will use innovative Open RAN solutions to make our mobile networks more adaptable and resilient, with future-proofed technology to support bringing lightning-fast connections across the country for many years to come."
Notes:
The project value is £14m, comprising £9.8m of DSIT funding from the Open Networks Ecosystem competition and £4.2m match funding from project partners.
Contact:
Peter Gradwell
Chief Commercial Officer
Telet – pg@tel.et 
07970030010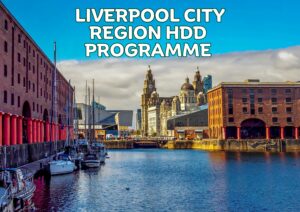 Liverpool City Region HDD
Partners: University of Liverpool, Telet Research (N.I) Ltd, Qualcomm Technologies International Ltd, Radisys UK Ltd, Attocore Ltd, ITS Technology Group, Tractum Ltd, CGA Simulation Ltd, Liverpool City Region Combined Authority, Liverpool John Moores University
The Liverpool City Region HDD programme will pioneer advanced AI techniques. The new digital wireless project brings the region's life and vitality to the UK's mobile network. Through live deployments at five venues, Liverpool City Region HDD will bring a model for open mobile networks, new training programmes, unprecedented capacity, lower cost deployment and a ruthless focus on user experience that adapts second by second to demand. Our goal is to feed the UK's mobile product eco-system and fuel the creativity of connected App developers to bring together communities from both sides of the digital divide.
The supercomputing experts at the Hartree Centre will  incorporate OpenRAN concepts in their UK AI/ML skills training programmes to pioneer the use of development and testing xApps which use AI running within the network to provide unprecedented efficiency and performance. This will be developed using a digital twin produced by CGA Simulation.
The integration of different, cutting edge technology Liverpool based companies will build on the existing network built by Telet. This is the  largest private 5G SA deployment in Europe.
The enhanced network will cover Stadia,  Arenas and outdoor event spaces,  Transport hubs and the Universities. It will provide an open platform for innovation using different technologies and represents a major collaboration with Qualcomm on the use of mmWave in a UK urban environment.
Telet Chief architect Andrew Miles explains: 
"Our ambition in Liverpool is to demonstrate to neutral hosts and national operators that OpenRAN can deliver value to them and that they can have confidence in adopting OpenRAN to modernise their procurement and deployment practices to be compatible with OpenRAN technology drawing on UK expertise and supply chains"
Telet CEO James Body said:
"In previous government funded projects we've explored developments in 5G, these two programmes are about implementation and delivery. We will take our technologies and demonstrate how our innovation can deliver from the Avon to the Mersey and in surrounding areas.
Contact:
Peter Gradwell
Chief Commercial Officer
Telet – pg@tel.et
07970030010